Annaharvey Farm
ANNAGHARVEY, TULLAMORE
Eircode: R35 A0Y5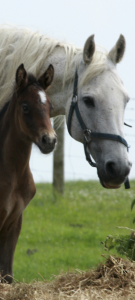 Annaharvey Farm has been home to the Deverell Family for 5 generations & is a busy and exciting place to visit. We offer training in jumping. flat work & X country riding, and welcome visitors on both a residential & non residential basis. Accommodation is in the old restored grain barn which is very comfortable & cosy and visitors quickly make themselves at home, wandering in & out of the kitchen for tea or coffee and one of Lynda's homemade cookies!
The riding instruction is excellent with BHS qualified instructors who are good at their job & know how to get the rider to go that little bit extra to improve their skills without making them feel uncomfortable - we are also very keen to maintain the element of fun which is so important when riders are on holiday.
The facilities comprise an indoor and outdoor arena, lunging ring, gallops, xcountry course from novice to advanced level, & general hacking /trekking around the 400 acre farm.
New for this year are the Sunday morning rides 10.30-12.00 Happy Hacking 12.00 -1.30 Xcountry Ride and we are also running an Event Training Weekend for adults (see web site for details) also a "Training for Eventing" summer camp for young people along with the regular Children's Summer Camps
Livery is also available on a "Full livery" basis with clients having use of all the facilities when available and we have horses suitable for leasing for those who don't want the long term committment of buying their own.
Regular Equestrian events are held in Annaharvey from Hunter Trials, IHTS events, Pony Club Events, Connemara shows, and an indoor league in spring & autumn.
The Xcountry course is available for schooling.
For the non horsey visitor there are painting weekends, cookery classes, super walks around the farm & nearby Slieve Bloom Mts. golf, fishing & cycling.
The Tack Shop at Annaharvey will supply all your equestrian requirements from whips to hats, boots, saddles, bridles, and of course Annaharvey Farm tee shitrs, polo shitrs, sweat shirts etc. & we have a personalised embroidery service available.
Annaharvey Farm is approx 1/50 hrs from Dublin or Galway & is very easily accessed now by the opening of the new motorway to Galway (M4/6) and Tullamore is a busy market town with lots of good pubs & restaurants - it is also famous for our lovely whiskey - Tullamore Dew!