Clonfert Equestrian Centre
Clonfert House Stud, Maynooth,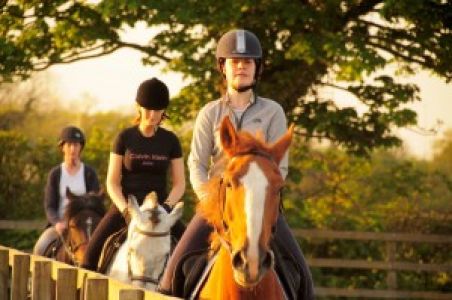 Welcome to Clonfert Equestrian Centre, one of Ireland's premier Equestrian Establishments. Clonfert Equestrian has a long tradition in equine activities and caters for all levels of riding ability. We specialise in providing horse riding lessons in Kildare and also offer an excellent livery service with a well maintained and comfortable yard. Whether you are looking for regular riding lessons in the Kildare / Dublin area, trekking in the Kildare Boglands or livery for your horse we offer a service that is second to none. We cater for both adult riders and children aged four and older in our unique stables just outside Maynooth in Co Kildare.
Our Instructors are BHS qualified and the yard is approved by both the Association of Irish Riding Establishments (AIRE) and the British Horse Society (BHS). At Clonfert Equestrian Centre we have top class facilities and a friendly and safe atmosphere – whether you are learning to ride, keeping your horse on livery, or taking part in one of our camps.
Our facilities include:
Outdoor all weather flood lit arena – 45m x 65m Silica Sand rubber and fibre. (Built by Equestrian Surfaces ltd)Outdoor all weather arena – 45m x 45m Silica sand with fibre
Trekking and light hacking available.
Show Jumping arena
Lessons and instruction with BHS qualified instructors available for all levels and ages of rider.
80 Acres of lands divided into 30 paddocks.
46 stables 12 x 12 plenty of room even for the bigger horse. Rubber matting an extra option.
Specialised tuition in dressage, showjumping and cross country riding available
Competition training.
Livery both Full and DIY.
Young horses prepared for sale / breaking in / schooling
Breeding Unit – homebred and professionally schooled horses for sale
Car parking facilities to cater for up to 60 cars.
Facilities manned 24/7
Free Tea and coffee on site
Free Internet Access
Young childrens play area – our 'Foals Fairground'