Spruce Lodge
Ballyrogan Stud, Redcross, Wicklow.
Eircode: A67 YD79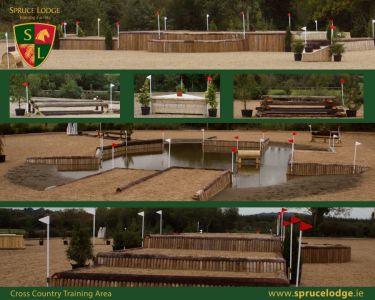 Enjoy all the year round training at Spruce Lodge Training Facility's Cross Country Playground which can be set out for your specific training needs - Advance booking essential
We offer the use of the Cross Country playground to the following:
2* level Eventing riders training their own horses or horses in their care
 Riders having instruction with freelance active accredited trainers/coaches who have their own coaching insurance
Training run by organisations affiliated to Horse Sport Ireland
A COMMITMENT TO SAFETY & THE HUMANE TREATMENT OF HORSES The design and construction of our training facility puts safety of riders as a priority. However safety can be compromised by a lack of awareness and education so we require those who use the facility to either be sufficiently experienced or be guided by an appropriately qualified coach. In addition the management reserve the right to refuse access to any who do not treat their horses humanely in all respects based on the current best practice of our national equestrian organisations.
ALL RIDERS MUST WEAR CURRENT BODY PROTECTION AND SAFETY HELMET OTHER EQUESTRIAN FACILITIES
We offer modern equestrian and conference facilities allowing us to host courses, seminars, lectures and workshops. The facilities include: Indoor arena 65m x 23m with Equestrian Surfaces waxed cushion track with a Viewing Gallery, tiered seating and catering facilities. Toilets (wheelchair accessible) Outdoor arena 9Om x 7Om with Equestrian Surfaces Fibre Footing waxed International standard show jumps, Dressage arenas, 20 stables with storage areas 2 x Lorry/Horsebox parking areas with hook up connections
TRAINING / CONFERENCE FACILITIES Lecture/conference building with AV and seating for 100 people. Catering / Canteen facilities for both course and conference training
EQUISTEPS which is based at Spruce Lodge offers:
Therapeutic riding lessons on a one-to-one basis
Recreational riding for children and adults
Equestrian vaulting for groups of up to 8
Contact with ponies through grooming and leading activities
All ages and abilities catered for. If you would like more information please do not hesitate to contact Essie Mooney at: 086 225 6138. More details on www.sprucelodge.ie
Located under 45 mins South of Dublin off the M11 motorway, one hour from Dublin Airport Directions:From Dublin
Take the M50 Southbound joining the M11 to Wexford
Take Exit 19 off the motorway then take 4th left which goes under the motorway. Signpost Redcross
Go straight through next roundabout and take the first left
Just under 1 mile on the right sign for Spruce Lodge
Follow the driveway and park in the car park to the right Directions from the South
Take the M11 Northbound
Take Exit 19 off the motorway and turn left at the roundabout signpost Redcross
Take first left
Follow the directions as above.